'Immunity Cards' To Be Issued To All Americans! Enable CDC To Track COVID-19 Vaccination Status In Database
On Wednesday the Department of Defense released the first images of a COVID-19 vaccination record card as well as vaccination kits, according to CNN.
"Everyone will be issued a written card that they can put in their wallet that will tell them what they had and when their next dose is due," says Dr. Kelly Moore, associate director of the Immunization Action Coalition.

"Let's do the simple, easy thing first. Everyone's going to get that."
What's more, vaccination clinics will also report to their state immunization registries which vaccine was given so that third parties can verify one's vaccination status regardless of what their card says (or if they've lost it).
Moore said many places are planning to ask patients to voluntarily provide a cell phone number, so they can get a text message telling them when and where their next dose is scheduled to be administered.

Every dose administered will be reported to the US Centers for Disease Control and Prevention, said Claire Hannan, executive director of the Association of Immunization Managers. –CNN
The DoD also released information on vaccine kits, which include a card, needle, syringe, alcohol wipes and a mask. There are approximately 100 million such kits ready to go as soon as 'the' vaccine(s) is(are) chosen, according to Operation Warp Speed CEO, Gen. Gustave Perna.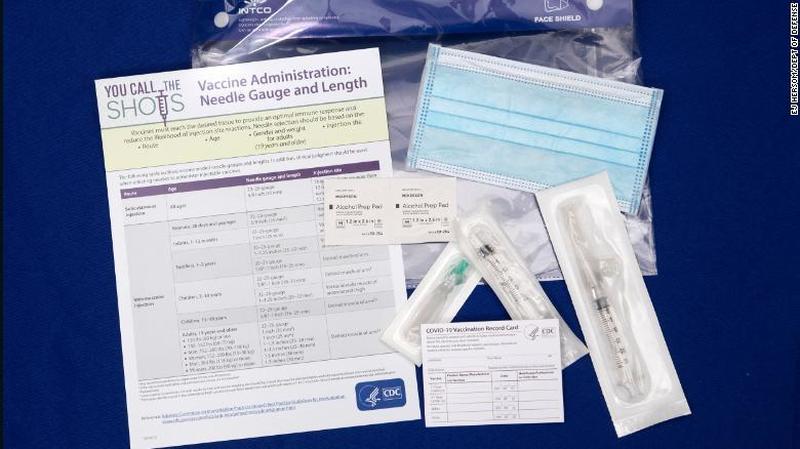 Vaccine Distribution and Tracking in Idaho
Idaho has already coordinated plans to use the IRIS tracking system that is in place to track the vaccines of the residents of the state. The system is primarily used for school and daycare vaccine tracking. Your child's private medical records are maintained and accessible to various departments of the state. You have to request an OPT OUT in order to protect your child's medical records. SEE https://healthfreedomidaho.com/iris-opt-out/
Several years ago the health department attempted to force adults to have their vaccines tracked in the system. It was voted down by the Legislature. see https://healthfreedomidaho.com/the-1st-win-for-hfi-hb-91-iris-expansion-voted-down/
DIGITAL AND BIOMETRIC IDs are the next step.
An article from Bloomberg clearly lays out the evolution of a paper card to a digital and eventually biometric ID tracking. https://www.bloomberg.com/features/2020-covid-vaccine-tracking-biometric/
"Even before Covid-19, a variety of companies and nonprofits had been promoting the benefits of digital and biometric IDs. The need for a speedy and comprehensive vaccination campaign has further emboldened them, to the point that privacy and data security campaigners are increasingly discomfited. In May, after the executive director of ID2020, a sprawling alliance of organizations pushing for digital IDs, wrote a white paper calling for electronic "immunity certificates" for Covid-19, one of the group's advisers quit, writing in her resignation email that the alliance just wanted to "promote decentralized identity solutions at all costs."
Does this concern you? Do you see any problem with it? Let us know in the comments below.