The Corrupt Business of CPS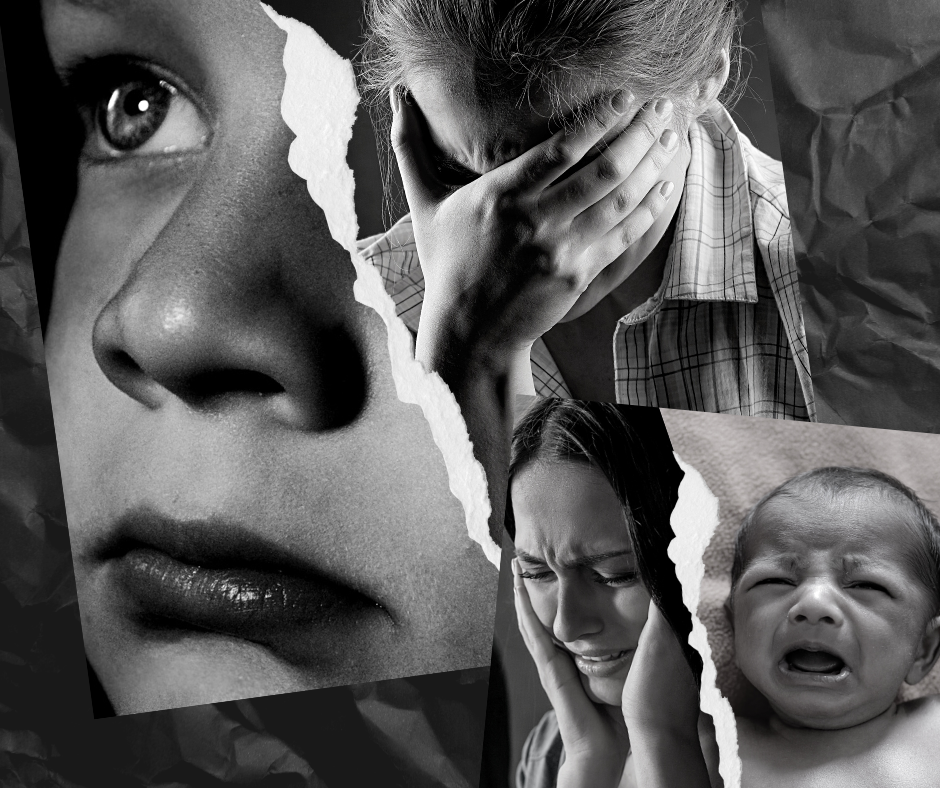 I used to believe, as most still do, that Child Protective Services only interfered in the sanctity of the family if there was extreme abuse or neglect. I remember hearing stories of children who, for example, had cigarette burns or were locked in closets with no food. Of course, we would want children rescued from situations such as these. Every child deserves to be loved, cherished, and nurtured. Then, I started to read stories of families that claimed to be loving parents but were having their children taken for something as simple as wanting a second opinion when a doctor recommended chemo. My heart would break. I imagined that I, too, would want a second opinion and maybe even a third when it came to something as serious as agreeing to chemo for any of my children.
When I read these cases, I often thought, "there must be more to the story." So I looked for any other info that I could find to support CPS intervention. I did not want to believe that they were getting involved in issues such as medical decisions for children.
"Neglected" means a child: (a) Who is without proper parental care and control, or subsistence, medical or other care or control necessary for his well-being because of the conduct or omission of his parents, guardian, or other custodian or their neglect or refusal to provide them…

16-1602-(31) NEGLECT Medical Reasons
In Nov 2017, I received a call. 'A newborn baby is being removed from the care of his parents.' The father claimed that "everything changed" with the medical staff at Kootenai Health Hospital when he declined the Hep B vaccine for baby Elijah. Sure enough, when I read the police report, this was listed as one of the reasons they believed Elijah to be in imminent danger. Another reason they cited was that the father continued to allow his baby to sleep on his chest against medical advice.
These new parents had to go to court to prove their ability to care for their new son. Baby Elijah was returned to his loving parents after 10 days of separation. He was never unable to breastfeed, therefore missing out on precious bonding and vital nutrients for immune system development. We will never know the full impact on his precious life.
Health Freedom Idaho reported on this medical kidnapping case, and I mistakenly thought that this was a rare case. Soon people from all over Idaho and even other states started calling me about their interactions with CPS. I was overwhelmed with grief for these families. And for the children who no longer had the safety of their homes and families.
DETRIMENTAL CPS INTERVENTION IS NOT RARE
A father called me one afternoon while I was on vacation. I remember enjoying the sun by the pool when I received his call. My day and life changed when he told me his heart-wrenching story. In Idaho, by statute, everyone is a mandatory reporter. In Idaho, every citizen is REQUIRED to call CPS if they suspect that a child is being abused or neglected. His neighbor had called CPS because the children often played outside, and she claimed that the mother was yelling at the children.
CPS came to her door, and she made the mistake of letting them in. They cited dirty dishes, laundry on the sofa, and the toilet seat up as imminent danger and reasons to remove all three children. I learned that when children are taken, they are immediately whisked to a doctor's office for a full physical.
Even if there is no allegation of sexual abuse, they are still looking at every part of your child's body. We raise our children with the knowledge that no one is to be looking at their private areas, and there they are without their parents being looked over and examined by a perfect stranger.
There is no parental consent given, and yet the parents will be sent the bill for this assault to their children. After we hung up, I lay there listening to children laugh and play while tears ran down my face in the grief of what was happening to precious children who did nothing wrong but would never be the same after this violation.
Even though these children were returned to their parents after several months, they will never again believe their home to be a safe place or that their parents can protect them from the overreaching hand of the government. This family would be broken beyond repair. The parents ended up divorcing. One of the children, who was under 12 at the time, threatened suicide. I would later learn that this is a common outcome when CPS intervenes on unfounded claims.
In Idaho, 72% of cases investigated by CPS each year are allegations of neglect, and 83% of those are unfounded.
The fact of the matter is that over 80% of the calls that are called into CPS are false and bogus. But CPS says all calls have to be investigated. In Idaho statistics reveal that almost 80% of the children removed from their parents are returned to their parents. The reality is any visit by CPS should be taken VERY seriously.
The most significant mistakes made by parents are usually in the very first encounter. If you can understand how to handle the very first encounter with CPS, you can increase your chances of maintaining your family's rights and freedom.
https://healthfreedomidaho.com/idaho-cps-traumatizing-innocent-families/
MEDICAL KIDNAP Kootenai Health & Boise St. Lukes
I have received multiple phone calls from parents about CPS being used as coercion at Kootenai Health. Health Freedom Idaho and Idaho CPS held a protest at this hospital due to the overwhelming amount of stories from this particular hospital.
One of the more horrendous stories was from a mother who had taken her 21-day old baby for a well-baby check and found herself in the emergency room with three attempts at a spinal tap on her newborn.
Her husband was at home with influenza A, and when she relayed this to the pediatrician, he sent her straight to the emergency room. Once there, the doctor decided it was imperative to attempt a spinal tap on a 21-day old baby with absolutely no symptoms.
The mother requested to wait on such interventions after the blood tests came back to see if there was any indication of infection. With no informed consent or any consent at all, they gave her baby antibiotics and attempted the spinal tap three times. She adamantly refused the fourth attempt, and CPS was called. This particular hospital considers it medical neglect if you dare to question or disagree with the doctor and will call CPS.
This action begs the question, how can a CPS caseworker determine whether or not the mother should have allowed the fourth attempt at a spinal tap? What training do they have to decide such things? I can imagine that it would be a very uncomfortable position for a CPS caseworker to be put in between a mother and a medical doctor to determine what medical neglect is.
Parents tell stories of increased overnights at the hospital, tests they would never have agreed to, and interventions that they would have otherwise declined. However, they agreed to such things against their better judgment after the threat of CPS being called. After recording these parents' stories, the logical question that we asked was, "Is Kootenai Health using CPS to increase their profits?"
We know that this isn't just happening at Kootenai Health. We are getting phone calls and messages from families all over Idaho and the US. Scaring parents into complying with doctors' orders by using the threat of CPS is a national problem, so we have a job to do.
VIDEO UPDATE: https://www.theepochtimes.com/when-seizing-children-from-parents-states-get-money-and-extralegal-power-the-case-of-baby-cyrus_4405061.html
St Luke Medical Kidnap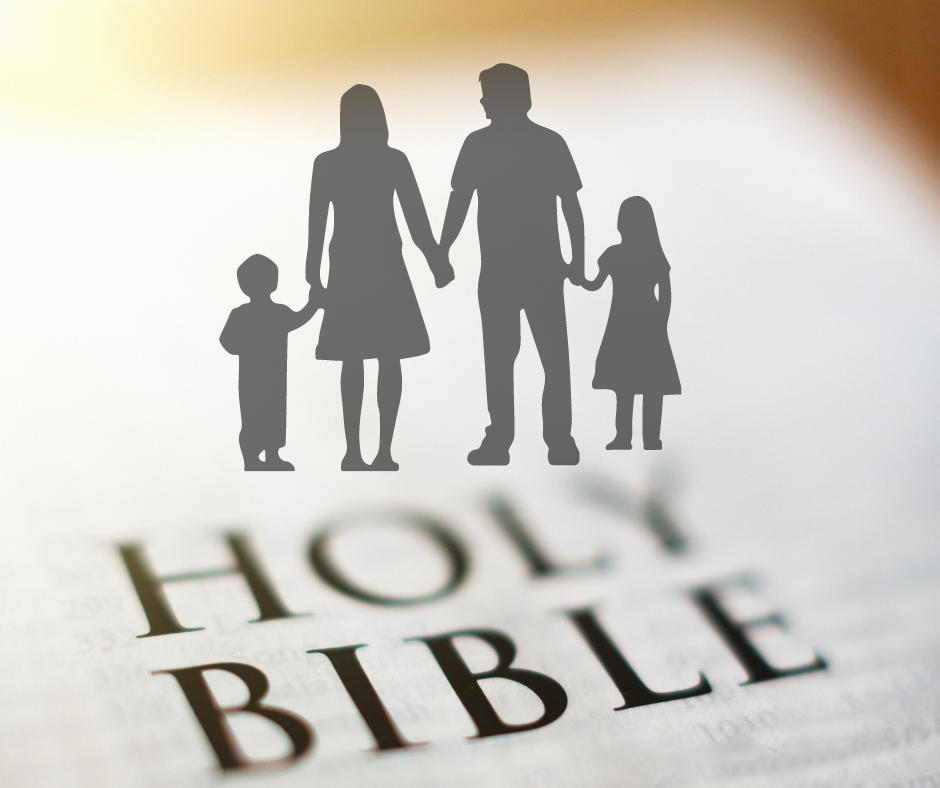 PARENTAL AUTHORITY: We have a biblical responsibility for our children.
[1] … Children, obey your parents in the Lord, for this is right. [2] "Honor your father and mother," which is the first commandment with promise: [3] "that it may be well with you and you may live long on the earth."
Ephesians 6:1-3 NKJV
[6] "And these words I command you today shall be in your heart. [7] You shall teach them diligently to your children and shall talk of them when you sit in your house, when you walk by the way, when you lie down, and when you rise up. …
Deuteronomy 6:6-7 NKJV
I've selected only these two from multiple scriptures throughout the Bible that direct children to obey their parents and call parents to teach their children. The Bible clarifies why children should obey their parents; it says that life will go better for them. Nowhere in the Bible indicates that children should obey the government because it was never God's design for children to be subject to the government. These scriptures also direct parents to teach their own children. YES! That is our God-given authority and also our duty.
PARENTAL AUTHORITY: Protected as a Constitutional Right
We frequently treat the Constitution as the creation of our rights. But, citizens, we have natural rights given to us at birth by our Creator. Let's remember that our Constitution was designed to protect and support our natural rights.
We need to approach any interaction with CPS from this position. If you don't understand your God-given authority over your children (supported by the Constitution), your rights can be trampled on and violated. You must understand these rights as you are the chosen protector of your children.
---
RETHINKING FOSTER CARE. An alternative for families in crisis.
---
FOSTER CARE/CPS is a FOR PROFIT agency.
As you read the information, I am providing here, keep in mind that they must pay the staff, rent, keep lights on, and make a profit. They make this income by taking your children and making as much money on them as possible while in foster care with a dangling carrot bonus if they reach the goal of adoption.
HISTORY OF THE FUNDING OF CPS
The Child Abuse Prevention and Treatment Act of 1974 doesn't receive nearly the attention that ASFA does, yet it is the piece of legislation that established Child Protective Services in all 50 states.
CAPTA was written into law, giving power to the social workers to direct law enforcement to snatch children from their families and ask questions later. This action is a violation of due process!
Though CAPTA funding doesn't reach the levels of ASFA, it still opened the door to federal funding for states to take children and place them into foster care. CAPTA also encourages states to enact mandatory reporting laws. As a result, Congress periodically renewed CAPTA, and this legislation remains the foundational force behind the federally-funded CPS state today.
ASFA – the Clintons' Adoption and Safe Families Act of 1997 provides billions of federal dollars to states to place children in foster care and adopt them out to strangers. Where once the emphasis was placed on trying to eventually reunite children with their biological parents, state and federal guidelines now favored fast-tracking adoption of children in foster care. This requirement changes the focus to terminating the biological parent's rights. Some counties are known to give a $4,000 bonus for each child adopted and an additional $2,000 for a "special needs" child. Employees work to keep the federal dollars flowing in.
The subject of taxation is often debated between those who say taxation is theft and those that believe taxation is a duty. Wherever you land in this debate, we can all agree that our tax money should not be used to remove children from happy homes and enter into a government program with more risk of harm.
Child Welfare collects Title IV E Funds afforded by a 1997 Act signed by then-President Bill Clinton, which allows states to get rich while keeping kids under state care.
FOSTER CARE IS FUNDED BY SOCIAL SECURITY.
Are you ready for this? They are robbing your social security account and using it to steal our children.
No wonder there is continual talk of Social Security money running out by the time my generation is of the age to use the money that we have paid in. Should we continue to allow our Social Security money to be robbed to fund a government program that is ineffective and harmful to children and families, and the community?
FOSTER CHILDREN ARE LOST BY CPS
We know, from a review of federal records, that child welfare agencies throughout the country have closed the cases of at least 61,000 foster children listed as "missing" since 2000, and an additional 53,000 were listed as "run away." So, since the year 2000, we have over 110,000 children unaccounted for that have been in the care of CPS.
Idaho CPS has acknowledges they have lost almost a dozen children in one year
Nationwide Thousands of Children are Lost!
MISSING FOSTER CHILDREN
https://www.boston25news.com/news/missing-and-forgotten-thousands-of-foster-kids-kicked-out-of-the-system/755376482/
According to a chilling NCMEC report compiled from FBI data and their own, of nearly 25,000 runaways reported to NCMEC in 2017, 1 in 7 were likely victims of child sex trafficking. Of those, 88% were in the care of social services when they went missing. This is not a one-time event. The data shows that CPS is a consistent source of children for child sex trafficking. In a 2013 FBI 70-city nationwide raid, 60% of the victims came from foster care or group homes. In 2014, NY authorities estimated that 85% of sex trafficking victims were previously in the child welfare system. In 2012, Connecticut police rescued 88 children from sex trafficking, and 86 of those children were from the child welfare system.
FOSTER CHILDREN BECOME VICTIMS
Sadly, foster children are likely to be medicated and the health and welfare department is incentivized to do so.
Foster children receive psychiatric medications up to 13 times more often than children in the general population.
8% of these children on medications received neither treatment planning or medication monitoring. Children under one are twice as likely to be prescribed a psychiatric drug compared to non-foster children.
Keep in mind that the more medications the child is on and services they need the more money this agency brings in. Once again the incentives are not set up in the best interest of the child.
Children who stay with parents who are accused (but not arrested or convicted) of "abuse" or "neglect" do better than most of the children being put into foster care. USA Today reported on the largest study done at the time to look at the effects of foster care.
The study confirms that children who can remain in their homes do better than in foster care. Children whose families are investigated for abuse or neglect are likely to do better in life if they stay with their families than if they go into foster care, according to a pioneering study. Kids who stayed with their families were less likely to become juvenile delinquents or teen mothers and more likely to hold jobs as young adults, says the study by Joseph Doyle
Doyle performed another study, one year later, comparing children left in troubled homes with foster care children to see which group was more likely to be arrested as adults.
The study looked at 23,000 children, and it found that "children placed in foster care have arrest, conviction, and imprisonment rates as adults that are three times higher than those of children who remained at home."
In 2019 Idaho's HB 170 attempted to put the citizens and CPS on equal footing with notification of parental rights bill.
PROTECTING PARENTAL RIGHTS
HB 170 was a transparency bill, requiring the disclosure of already established rights. It does not place any limits on CPS, law enforcement, or prosecutors to investigate reports of child abuse, neglect, or abandonment. But, frankly, the Bill of Rights is precisely a shield between citizens and an overreaching government. The nation's founders thought it was a good idea in the constitution to create legal obstacles to the state's unwarranted intrusion of citizens' homes, persons, and relationships with their children.
I would highly recommend that citizens start requesting bills like this because we have found that most parents do not understand their rights when CPS is at their door. They often make mistakes that they regret later due to a lack of knowledge. The irrevocable harm of not knowing your rights can be as large as losing your child permanently within a matter of months. If any citizen of any state would like to see the verbiage of this bill we would be happy to share it with them.
When CPS knocks:
RESOURCES FROM PACIFIC JUSTICE INSTITUTE
(You should have already taught your children to NEVER EVER open the door for strangers, even if one of those strangers is a police officer.)
Be polite. Firm. Say as little as possible.
~ Do not let them into your home without a warrant.
~ Record the conversation.
~ Get the investigator's and supervisors' contact information.
~ You can ask for the details of the allegations. Don't settle for abuse/neglect, those are categories, not details.
~ Say as little as possible. If you say nothing to them, you have taken away their greatest weapon, which is their ability to twist your words.
~ Let them know that you will contact your attorney and that any further communication is to go through your attorney.
~ Don't sign any papers. Signing documents, even a case plan, will put you into contact with them.
~ Close the door.
Keep in mind that the caseworker is there to find evidence to support what he/she already believes to be true, that you abused your child. I have heard of at least two stories directly of parents being served with invalid warrants. Educate yourself on what must be on a valid warrant because, if it is invalid, do not let them in.
The IV and XIV amendments support your God-given rights:
Amendment IV
The right of the people to be secure in their persons, houses, papers, and effects, against unreasonable searches and seizures, shall not be violated, and no Warrants shall issue, but upon probable cause, supported by oath or affirmation, and particularly describing the place to be searched, and the persons or things to be seized.
Amendment XIV
Section 1.
All persons born or naturalized in the United States, and subject to the jurisdiction thereof, are citizens of the United States and of the state wherein they reside. No state shall make or enforce any law which shall abridge the privileges or immunities of citizens of the United States;
nor shall any state deprive any person of life, liberty, or property, without due process of law; nor deny to any person within its jurisdiction the equal protection of the laws.
We know that God has given our children to us as our property and this is supported by the Constitution. Unfortunately, we have allowed local, state, and federal governments to become increasingly involved in that relationship. Our creator has called us to love and nurture our children, raising them in keeping with His word. The belief that the government knows better is being pushed by the media and other sources but the facts do not support this baseless notion. The facts show that the community is, in fact, harmed when the department of health and welfare interferes.
Know your rights:
You have the right to remain silent and to refuse to answer questions.
You have the right to refuse entry to your home or other premises if there is no warrant of a court.
You have the right to consult with an attorney and to have an attorney present during questioning.
You have the right to refuse the questioning of minor children in your home or on your property if there is no warrant to examine your children. Hiring a private attorney who understands your constitutional rights and will help you stand on them is imperative. ~ If you waive your rights, and change your mind during the investigation, you can inform the department immediately of your desire to exercise your rights.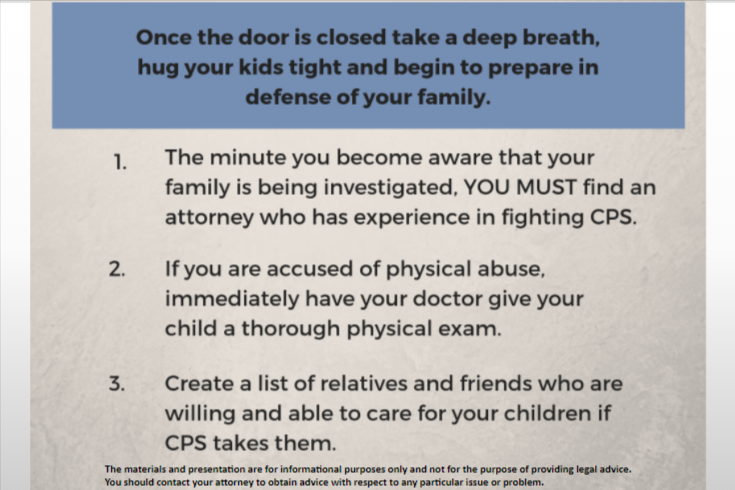 If CPS takes your child:
Contact an attorney or other constitutional parent advocate.
Do not sign anything.
Do not agree to anything.
Do not accept a public defender or any other attorney who says, "it's easier if you just do what they say".
Demand due process!
Bring every possible witness to the first shelter care hearing. This is a crucial hearing, although they will try to convince you that it is insignificant.
Portions of this article were published by
DATA RESOURCE LINKS
Money comes from social security
https://www.childtrends.org/publications/an-introduction-to-child-welfare-funding-and-how-states-use-it-3
orhttp://ffs.dhs.ga.gov/ffs/manuals/administration/Foster%20Care%20Funding.pdf
Over 110,000 children missing
https://www.boston25news.com/news/missing-and-forgotten-thousands-of-foster-kids-kicked-out-of-the-system/755376482

Child trafficking stats
https://thefreethoughtproject.com/chilling-ncmec-report-shows-88-of-missing-sex-trafficked-kids-come-from-us-foster-care/?fbclid=IwAR2ma4rj3-zBAO9G2G-_gzGiwcEEyn8lWgaAkOpjODLguwE7aHmcB9Un35c

Joseph Doyle's report
https://medicalkidnap.com/2015/05/13/foster-care-children-are-worse-off-than-children-in-troubled-homes-the-child-trafficking-business/
ID HB170
https://idahocps.org/2019/03/25/heather-scott-on-hb-170/
https://legislature.idaho.gov/wp-content/uploads/sessioninfo/2019/legislation/H0170.pdf